MEDIA REPUBLIK > MEDIA INNOVATION > MEDIA INNOVATION HUBS IN GERMANY
A not exhaustive guide to the places that promote media innovation and provide opportunities for startups in media technology, journalism and marketing: accelerators, networks, incubators.
Mediatech Hub Potsdam.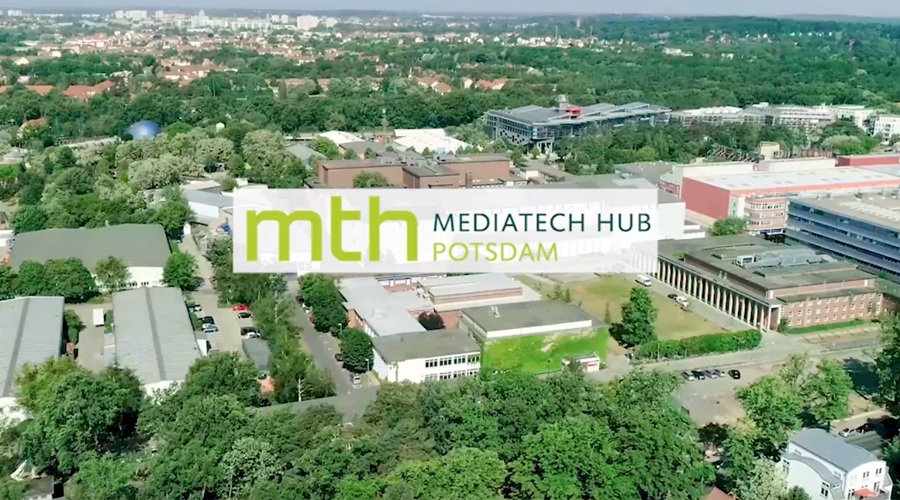 Potsdam is the capital city of Brandenburg and is known as the birthplace of German cinema beginning of the XX century. It is also the home of some of the most prestigious technical universities and the Hasso Plattner Institut (from the name of the SAP founder).
The MediaTech Hub Potsdam, promoted and funded by the State of Brandenburg and other public institutions, is one of the 12 hubs in Germany on a mission to drive the digital transformation of the Country: the Potsdam hub is the only one with a focus on media technology.
Despite its focus on media technologies, the MTH is industry agnostic: it promotes innovations and support startups working in domains that do not necessarily apply to the media and cinema industries. To fulfil its mission, the Media Tech Hub:
Organises the MTH Conference once a year. The conference is the only B2B event on media technologies in Germany. In 2021, it ran on November 10-11.
Co-manages the MTH Accelerator with the University of Potsdam, Film University Babelsberg and the Hasso Plattner Institut. The accelerator is the sparring partner for early-stage startup teams whose ideas and solutions include media technologies such as virtual reality, immersive technologies, artificial intelligence, voice, cloud, blockchain, or general digital technologies. It offers a six-month program for newly founded teams. So far, at least 12 new ventures have been launched after completing the program.
The MTH Space offers affordable office space for media technology startups at the Potsdam Babelsberg location.
Media Lab Bayern.
The Media Lab Bayern is an innovation hub for digital media, founded and operated by Medien. Bayern, supported by the Bayerische Staatskanzlei and the Bayerische Landeszentrale für Neue Medien (BLM).
It is known as an incubator, whose programs have run ten batches so far, but it is more than that: the LAB supports talents, startups and media companies with events, workshops and intrapreneurship programs. It cooperates in research programs and a networking/marketplace where companies and individuals can connect: the Media Innovators.
The programs operated by the Media Lab Bayern include:
The MEDIA STARTUP FELLOWSHIP is the accelerator program. Fellowship startups receive a prototyping budget of up to 40,000 €, plus an additional 10,000 € worth in mentoring, office space & media services. Founders receive advice and support from coaches and mentors in several fields.
With Google and the European Journalism Center, the Media Lab Bayern operates the GNI Startups Lab Europe. The Lab has built a six-month programme specifically tailored to the needs of content startups in Europe. Participants will take part in workshops, coaching and networking opportunities. Additionally, they get up to € 25,000 in grants for running revenue-generating experiments, should they need it.
The R&D Fellowship. It is a two-month program focused on developing solutions to some of the most critical media challenges, such as combating fake news, data and analytics for the newsroom etc. The program aims to develop innovations without necessarily bringing them to the market. It is an R&D Lab open to everybody having skills and ideas on how to solve the challenges.
The Media Company Fellowship helps local and regional media companies in Bavaria create a culture of innovation, both at a managerial level and among the editorial team in the office. The Media Company Fellowship consists of an exclusive partnership between Media Lab Bayern and the City University of New York (CUNY) Craig Newmark Graduate School of Journalism. This pilot program offers a unique approach to combining strategy and practical experience. An executive from each participating company can join the CUNY Executive Program to develop the innovation strategy; selected employees work to implement the innovation culture and products at Media Lab Bayern.
The Open Innovation Challenge (OIC) provides an avenue to promote innovative solutions in the media industry. The OIC is an open competition for ideas that we regularly launch on various topics. The best submissions get prize money, and the implemented solutions are made available to media companies free of charge for a limited period.
The coworking space. Anyone working on a specific project related to digital media can apply for space in the free coworking open space at Media Lab Bayern—it does not matter whether student or professional, alone or part of a team.
Journalismum Lab Nordrhein-Westfalen.
The Nord-Rhein Westfalen (North Rhine Westphalia) State Department for Media runs a fellowship training programme for innovative product development, business development and start-up skills to young journalists. It also awards prototyping budgets to implement journalistic innovations, acting as an incubator.
The Journalism Lab NRW combines incubation and open events throughout the year:
At the Media Innovation Day, the programme Fellows present their projects. External speakers provide feedback and advice.
During the Idea Sprint, media start-ups receive intensive coaching to develop concepts in interdisciplinary teams.
The Media Innovation Fellowship supports participants for several months in the founding process through coaching and workshops, plus financial start-up support in the further development of their start-ups.
At the Audio Barcamp, the Journalism Lab gathers professionals to think about the future of listening: radio producers, podcasters and audio marketers.
At the Hackathon, participants receive space and mentoring to develop their concept into a prototype.
👉🏿 JOURNALISMUS HUB @ MEDIENANSTALT NRW
Next Media Accelerator, Hamburg.
The Hamburg-based Next Media Accelerator runs a 6-month Accelerator Program for startups in media and marketing.
The Next Media Accelerator has been funded and supported by Axel Springer, Funke Digital, Madsack, Spiegel, Syzigy, DPA and other media and marketing companies.
The portfolio of companies launched after the program includes names such as:
MedienInsider: a digital news and insights outlet for media professionals that focuses on the economic and cultural development of journalistic media.
Lytt.app: an audio technology solution for media, including Branded audio apps integrated into the client´s media, an online player and widgets, plus an RSS export tool to serve the same content to third parties. Funding partners and customers are, inter alia, the DPA (Deutsche Presse Agentur) and the Schibsted Media Group.
ContentFlow: an all-in-one live-streaming solution, already used by many German-speaking media, such as ARD, Red Bull Media House, DPA, Media Pioneer and by the European Commission. Content Flow solution natively complies with the GDPR requirements and recommendations.
Fraunhofer Fokus FAME Lab.
Fraunhofer FOKUS (Fraunhofer Institute for Open Communication Systems) is the Fraunhofer Department researching digital transformation and its impact on economics, technology, and our society since 1988. It partners with commercial enterprises and public administrations to shape and implement digital transformation.
Its business unit Future Applications and Media (FAME) offers its project partners the technical know-how and solutions for developing modern media applications.
The research and development focus lies on these fields:
machine learning for media technologies
interoperability
personalisation
machine interaction
FAME organises a yearly FOKUS Media Web Symposium, an international meeting for media professionals that explores the state of the art of enabling technologies:
Artificial Intelligence for Media
Advanced Streaming Technologies
Media Applications such as addressable TV, Dynamic Ad Insertion/Substitution, Audience Measurement, Augmented Reality/VR/360.
Storytek, Estonia.
Based in Tallinn, Estonia but worth mentioning in this not exhaustive list: Storytek is a #futureofcontent accelerator and creative innovation hub that brings together audiovisual sector knowledge, technology and funding with a selection of tech entrepreneurs and content creators.
The purpose of Storytek, founded in 2017, is to help creatives and early-stage companies to develop business and fast-track their content, products, and services to the global markets.
It runs a 10-week program twice a year to build the platforms and content. Storytek also gives access to the Estonian e-residency – thus facilitating the operations for founders not coming from the EU.
The accelerator focuses on creative projects in content, creativity, IP & media tech verticals. It provides a consultancy ecosystem for startups and vertical-related corporations & enterprises. Its R&D lab works on public-private partnerships projects in media technology.
👉🏿 STORYTEK
Media Motor Europe.
Nothing to do with automotive, but with media innovation: Media Motor Europe, based in Bruxelles, Belgium, and funded by the European Commission, is a networking organisation aiming to build a strong European ecosystem fostering media and the creative industries.
With a focus on deep tech solutions, such as AI and machine learning, Media Motor Europe provides visibility to the startups and their innovations through a set of focused and concrete dissemination activities and pitching opportunities.
It provided mentoring and opportunities for more than 60 startups, such as United Robots, a solution for delivering automated journalism based in Malmö, Sweden.
👉🏿 MEDIA MOTOR EUROPE, Bruxelles.
INSERT_STEADY_CHECKOUT_HERE
Subscription and payments are managed by Steady Media GmbH, a company registered in Berlin, Germany. Steady passes on personal data to Media Republik to be able to provide the service. You can cancel the subscription at any time. Read more on your cancellation rights.